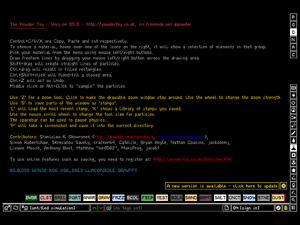 The Powder Toy is a computer simulation game.
It is a Physics simulation game, and is played all around the world.
Fire, 
Lava, 
Gas, 
Goo, 
Snow, 
Dust, 
Oil, 
C4, 
Ice, 
Gas-passable wall
Electrical hole (E-hole)
Conductor
Solid-passable wall
Air-passable wall
Regular wall
Absorber wall (Lets air pass though)
Liquid-passable wall
Fan (Same as Powder Game's fan that was made at version 7.3)
Detector (Passable / Particle conductive)
Electric wall (E-wall, Passable if conducted.)
Conductive regular wall
Fire display (4)
Blob display (5)
Heat display (6)
Fancy display (7)
Nothing display (8)
Heat Gradient display (aka Temperature Light display) (9)
Life display (Gray if non life) (Shift+1)
Alternative Velocity display (The better version of Velocity display) (0)
Velocity display (Has an alternative version) (1)
Pressure display (2)
Persistent display (3)
This game is similar to Dan-Ball's Powder Game, which at the moment, has 30 elements.
Out of all the elements, Wood is the least used.
Fan is an element in Powder Game 7.3.